Texas Attorney General's Child Support Evader Program
Jan. 11, 2023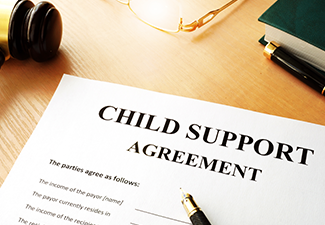 Texas, like most states, faces a mounting problem of non-custodial parents who are obligated to make child support payments but shirk their responsibility. The Office of the Attorney General (OAG) and its Child Support Division are the chief enforcement arm of court-ordered child support payments, along with the courts themselves.
Custodial parents who have not received the support payments due them can turn to the OAG for aid in collecting the arrears amount and locating the responsible person. The problem, though, is that the whereabouts of the delinquent non-custodial parent are often unknown.
One solution the state has implemented is known as the Child Support Evader Program. The Evader initiative even includes a website where mug shots of delinquent parents are displayed in hopes that they can be tracked down and forced to own up to their obligations. Some of the pictures—just like you'd see on an FBI Most Wanted poster—are of individuals who owe more than $200,000 in arrears payments. The total owed in arrears statewide is estimated to be well into the billions of dollars.
If you have a spouse who is routinely avoiding child support payments, or evading them completely, contact the office of Kim Hamilton Attorney at Law. The firm's child support attorney will sit with you, discuss your situation, and help you take the necessary steps toward resolving the situation. If you live in Johnson County, Tarrant County, or anywhere else in Texas, reach out immediately to the firm in Fort Worth for a free consultation.
How Are Child Support Payments Calculated in Texas
Texas courts generally rely on a simple percentage formula for determining the sum the non-custodial parent will be obligated to pay. If there is joint custody, the figures may well be adjusted, but as a general principle, if there is one child, the non-custodial parent will be obligated to pay 20 percent of the calculated net resources. From there, the percentage keeps rising: 25 percent for two children, 30 percent for three, 35 percent for four, 40 percent for five, and not less than 40 percent for six or more.
What to Do If the Arrears Payments Add Up
You can, of course, go to court and file a lawsuit against the non-custodial parent if you know where they are located, but often the nonpayers will 'skip town' to avoid being caught and forced to pay. You can also turn to the OAG's Child Support Division to help you locate the nonpaying parent. The support staff, which totals fewer than 3,000 individuals, often is faced with up to one million cases at a given time, however.
That's one of the reasons the state empowered the Attorney General to create the Evader Program. One of the principal tools of this program is the mug-shot website, which enlists the aid of the public in tracking down delinquent parents to be arrested and held accountable. However, there are criteria that must be met before someone's photo can be placed online. These criteria are:
The noncustodial parent must owe at least $5,000

An arrest warrant has already been issued

The person's whereabouts are unknown

No payments have been made for at least six months

The arrears parent is not seeking bankruptcy or receiving welfare

The custodial parent signs a waiver to release pertinent information
Other Means to Collect What's Owed
Working with the courts, the custodial parent can exert certain other measures to collect what's owed. These include:
A court-ordered garnishment of wages

Liens filed against the nonpaying parent's property or other assets

Garnishing Social Security or other retirement funds

Assessing a 6 percent interest penalty on past-due obligations

Suspension of driver's, hunting, and fishing licenses

A lawsuit against the non-custodial parent to force payment

Lottery winnings intercepted, along with any income tax refunds or insurance settlements

Denial of a passport

Forwarding of the delinquency to credit agencies, which will jeopardize the nonpaying parent's credit score
Can a Delinquent Parent Face Jail Time?
The Texas Penal Code allows for the arrest of a delinquent non-custodial parent for what is called "criminal nonsupport." If the ex-spouse is found to have knowingly or intentionally evaded paying court-ordered child support, they may face a felony charge that can result in imprisonment for up to two years along with a fine of up to $10,000.
If the court-ordered child support decree includes medical expenses, such as reimbursing for health insurance premiums, then the non-custodial parent might face additional violations. Also, though there is technically a four-year statute of limitations on past-due child support payments, the courts can still enforce a comprehensive payment amount. Finally, even if the child reaches 18 or older if still in high school, the obligation to pay the arrears amount is still viable and enforceable even though the minor has reached adulthood.
Seek Legal Aid Immediately When Payments Are Not Made
You don't want to let your ex-spouse continue to renege on paying you what's owed. You need to seek knowledgeable and experienced legal help as soon as possible. If you're in Fort Worth or anywhere in Northeast Texas, reach out immediately to Kim Hamilton Attorney at Law. Your first consultation is free, and Attorney Kim Hamilton will work with you to set in motion the legal steps necessary to recover what's owed you—now and into the future.