What Is a Restraining Order?
Oct. 13, 2022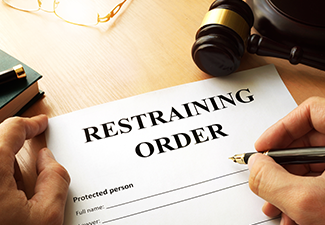 Nobody enters into a relationship with someone else if they believe they'll be in danger, either physically or emotionally. But sadly, there are far too many romantic relationships and marriages where one spouse is abusive or manipulative to the other. This means that one partner may need help fleeing from domestic violence or abuse to protect themselves and their families. In some cases, they may need to file for a restraining order.
If you're in the Fort Worth, Texas, area and would like to speak with a family law attorney to learn more about what a restraining order can do, reach out to Kim Hamilton Attorney at Law. With over 30 years of legal experience representing clients throughout Texas, including Johnson County and Tarrant County, Attorney Kim Hamilton will help you find a solution.
What Is a Restraining Order?
When most people think about a restraining order, they imagine a legal document used to prevent domestic abuse from one partner or family member to another. And, while this is a common and important way they're used, they can also be used during a divorce to prevent the other party from bad faith financial tactics or moving children before the divorce is finalized.
Legally, a restraining order (also called a protective order) can be used to protect an individual from all kinds of abuse, including harassment, physical abuse, sexual abuse, child abuse, or stalking. Importantly, the restraining order itself can't prevent the person from engaging in this behavior, but it does impose severe penalties if they do. Often, the prospect of these consequences is enough to stop the perpetrator from inflicting the harm in the first place.
Who Can File for a Restraining Order?
In Texas, anyone may file for a restraining order for themselves or for a family member if they are seeking protection from an abuser. Per state law, the abuser must be a family or household member, and this includes current and former spouses, siblings, children, parents, roommates, or someone you share a child with (regardless of your marital or domestic status). The law also protects those in a dating relationship, including current and former romantic partners as well as same-sex partners.
What Types of Restraining Orders Are Available?
Depending on your situation, there are different types of restraining orders available. Typically, you'll file a restraining order in your local county with the court clerk, while others must be issued by a police officer or judge after certain criteria have been met. For example, a judge may impose an emergency protective order if they find an immediate threat of harm and there isn't enough time to hold a hearing. These typically only last for a matter of days until both parties can be represented in court.
You may also wish to file a domestic violence restraining order (DVRO) which can be applied after a domestic violence case. A standard restraining order is typically in place for a long time (several years to a lifetime).
Lastly, there are temporary restraining orders (TROs). These are most common when a couple is going through a divorce and one spouse is worried about the potentially harmful behavior of the other spouse. When you're obtaining a restraining order during the divorce, this is the type you'll need to guard against retaliatory actions like destroying property, taking on new debt, selling joint property, draining a bank account, or withholding visitation from children.
These can be filed at the same time as your divorce paperwork, especially if you'll be serving an unsuspecting spouse with the papers and fear their reaction. However, you can also file for a TRO at any time during the divorce process.
What Limitations Will a Restraining Order Set?
The parameters of your specific restraining order will dictate what exactly it can and will do to protect you. It can be very helpful in these cases to work with an experienced local attorney who can ensure that all your concerns are addressed by the order so you and your family feel safe. This could mean that the abuser isn't allowed to be within a certain distance of your home, place of work, or a child's school, and it can also restrict what they're able to do with your children, assets, or finances during a divorce.
In other cases, it may bar the individual from possessing a firearm or contacting you in any way that's not specifically outlined in the order. If the individual violates these limitations, they can be arrested and charged with a crime, and it's usually the role of the victim to report these violations to law enforcement.
Attorney Kim Hamilton Can Help
If you're in the Fort Worth, Texas, area and are searching for a divorce attorney in Texas who shares your Christian faith and values and who will also fight to protect your rights under the law, turn to Kim Hamilton Attorney at Law. Call today to schedule a consultation.